Are you looking for job? Then go directly for the job opportunities or read more about Apics Flexjobs for employees
Apics Flexjobs is the solution for dealing with fluctuations in your need for logistics and production personnel.
shrink and grow: continuity in flexibility
To meet a fluctuating market demand, it is important to be able to grow quickly in size as an organisation or shrink. When it comes to the issue of employees, you could either grow towards or against the limits imposed by the law and your social responsibilities.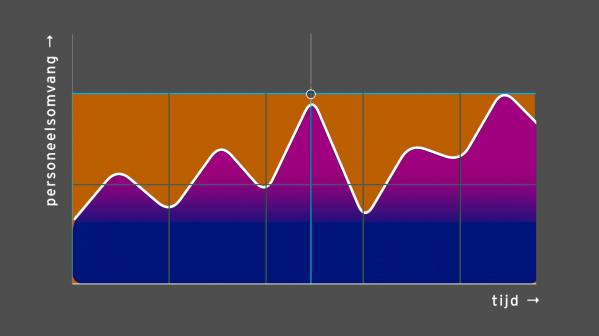 Fluctuations: When you hold a sufficient number of personnel to respond to the market, this implies that you will have enough regular personnel (orange). When you hold a fewer number of people, this implies that you will have shortage of regular personnel (purple).
With Apics Flexjobs all of these problems will be a thing of the past. You are assured of the necessary skilled manpower in times of growth, and you will not be charged for surplus personnel during shrinkage. This gives you the assurance of continuity while maintaining flexibility.
lasting relationships, familiar faces
Apics Flexjobs takes pleasure in a long-term relationships. And of course not only with the employers for whom we recruit, but also with the people we send out. We do take that extra leap to have them fully engage. We have three good reasons for this:
we don't like to see good people leave
we are committed to security for both the clients and personnel
we would like to maintain the acquired experience and knowledge of employees
This enables us to offer a permanent staff base and allows you also to come across familiar faces of people who know your business and work, and have been proven to fit into your organization, during the time of increasingly fluctuating demand.
strict selection
Before we propose a candidate to you, we would have tested and screened him extensively. Our screening exercise includes a good conversation, in which we look at the ambitions, enthusiasm and background of the candidate. They are then trained, supervised and practice tested. With this strict selection in place, you will always get people who really have something outstanding to offer.
Why
Apics Flexjobs

?
lower costs
better competitiveness
corporate social responsibility
less strain on your organization, and less stress